Cosmetic Dentistry in Applecross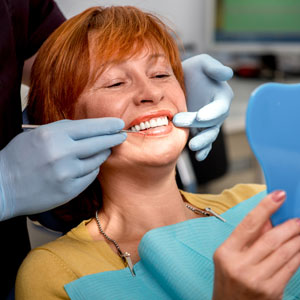 While fashion trends come and go, one thing always remains in style — a stunning smile. At The New Dentist, we offer patients a broad array of smile-enhancing options. Your smile makeover case will be customised to meet your specific goals, needs and budget. We may recommend a combination of the following services:
Minimally invasive white fillings. These dental restorations are created to match your tooth and repair areas of decay, without the need for dark silver fillings.
Cosmetic bonding. This procedure erases the signs of chipped or uneven enamel. Numbing may not even be necessary!
Dazzling porcelain veneers. These ultrathin shells cover the teeth behind them for an instantaneous straight, white smile.
Professional teeth whitening. Turn back the clock as teeth whitening lifts natural and superficial stain particles away from your healthy tooth enamel, leaving brighter colours behind.
Clear braces. Discreet and comfortable, Invisalign® allows you to straighten your teeth without any cumbersome metal wires or brackets.
Ceramic crowns and bridges. If you have badly broken teeth or missing ones, crowns and bridges are ideal. They can even be placed over dental implants.
Why Invest in Your Smile's Appearance?
A beautiful smile reflects the image of health and youthfulness. While not everyone is born with bright, straight teeth, it's still possible to achieve them with the help of our cosmetic dental services. If you wish you felt more comfortable smiling in photographs or simply want to make a great first impression when you meet new people, ask how we can help!
CONTACT US »

Cosmetic Dentistry Applecross WA | (08) 9315-3008