Dr Sara Bolton, Dentist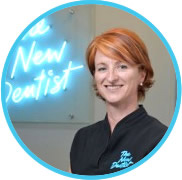 Sara graduated as a dentist from The University of Newcastle upon Tyne, England in 1992 and worked both in NHS general practice and community dental services treating disadvantaged and anxious children and the elderly, before migrating to Australia in 1996.
Since then she has enjoyed a wide variety of dental experiences, ranging from general dentistry in public dental health services in Bunbury, to providing all aspects of dental care & dental public health as the sole dentist on Christmas and Cocos (Keeling) Islands for 5 years, before moving into private practice in Perth in 2003.
During this time, Sara has had a family and gone on to post-graduate studies in health promotion and dental public health, and more recently explored her passion for holistic health, graduating in Naturopathy and Western Herbal Medicine in 2014.
Sara's philosophy has always been to treat the whole person, realising the interplay between oral health and general health, whilst also acknowledging environmental, occupational, social, emotional & spiritual factors that may impact health and decision making.
Dental Philosophy
Sara believes her job is to empower & educate you, providing you with as much information as you require and to discuss all available options, so that you are able to make an informed decision on your pathway of care.
She does not adhere to the 'one size fits all' philosophy and with her multi-faceted background brings to the table a well-rounded approach in the treatment of you as a unique individual.
Care and Treatment for All Ages
Assisted by her long term dental assistant, Gail Baker, Sara enjoys treating patients of all ages – together they have created a cohesive, caring team, ensuring that patient care is at the centre of everything they do. Over the years Sara has converted many fearful, anxious and apprehensive patients into fearless, regular dental attenders. She has gained a following of loyal patients who continue to come to her for her understanding and respect.
Sara provides a wide range of treatment options (including the use of biocompatible dental materials, safe amalgam removal, implants and nitrous oxide sedation), but also works closely with several dental specialists who also regularly refer patients to her.
Sara is a member of the Australian Dental Association, the Australasian College of Nutritional & Environmental Medicine and the Australian Natural Therapists' Association.
OUR SERVICES »
Outside the Office
Outside of work, Sara's passions are food, nutrition and the environment. She enjoys cooking and sharing recipes, and inspiring friends and family with new ideas. She loves the outdoors and yoga, walking and running.

Dr Sara Bolton | (08) 9315-3008