Invisalign® Clear Braces in Applecross
Straighter Smiles at The New Dentist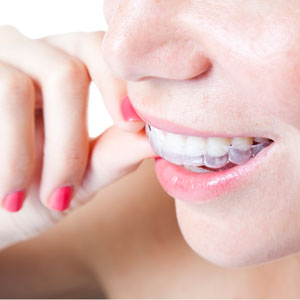 Crooked or crowded teeth aren't just a cosmetic problem that causes embarrassment. Such malocclusions can lead to oral health complications like cavities, gum disease, chronic headaches or worn down dental work. Fortunately, our dentists can help you align your teeth with the leader in clear, removable braces: Invisalign.
Benefits of Invisalign Treatment
Wearing "invisible braces" like Invisalign provides you with freedom to
Schedule fewer, shorter follow-up visits. After all, there are no adjustments necessary!
Eat all of your favourite foods without worrying about breaking your orthodontic appliances.
Brush and floss more easily. Just remove your aligners and maintain your normal oral hygiene routine.
Straighten your teeth without other people knowing you're wearing braces.
Enhance your oral health. A straighter smile is usually a healthier smile.
Are There Different Types of Invisalign?
Yes! Invisalign offers unique systems that are tailored to the specific needs of our patients.
For instance, Invisalign Full is generally appropriate for most adults with mild to severe misalignment. If you prefer to straighten only the teeth at the front of your mouth (for cosmetic reasons), Invisalign Lite may be the best option. Or if you have a teenager who needs some reminding to change their aligners out on time, Invisalign Teen's built in indicators will keep things running on schedule.
How Clear Braces Work
Invisalign is the leader in the clear braces industry. Each customised aligner is digitally mapped out through a computerised imaging process. Before you even start wearing your braces, Invisalign has virtually planned where each tooth is to be moved. With this information, a series of aligners are created. Simply wear your set of aligners 20-plus hours per day and change them out every two weeks. You'll see your teeth straighten right before your eyes without all of the extra trips to the dentist's office.
Schedule a consultation today to find out if Invisalign is right for you!
CONTACT US »

Invisalign® Clear Braces Applecross WA | (08) 9315-3008